MR Death- Detached from life-CD (Agonia Records)
Mr Death is on one mission and its very clear from the 1st track to be a brutal and ultra heavy death metal force with bombastic and harmonic elements all in one. Some of the members have been in the Goth Metal masters Tiamat but this is nothing like that band minus there 1st release in there formative early metal stages . Mr Death has more in common with bands like Bolt Thrower, Panzerchrist, Marduk and Mid Period Napalm Death as I all it the War Death Metal sound. The low end is massive on this release the vocals are full on violent growled attack like in the early Nuke Blast and Roadracer days... Mr Death makes me love Death metal all over again. If you missed the 90's florida Death metal scene then you can very much relive the glory sounds with a band like Mr Death well well done !!!!
http://agoniarecords.com/
Die Hard- Nihilistic Vision-CD (Agonia Records)
Retro 80's Black Thrash and Proto Black metal seems to be a big thing in Europe again. As with Die Hard they seem to worship at the alter or Bathory, Mercyful Fate, Celtic Frost and Venom. Not that changes for one moment they are a kick ass metallic force as this much is plainly clear. Where I find it amazing is that the vocalist sounds like a mix of Cronos and Mr Warrior. Let be honest too my friend the Extreme thrash flag is worn like a badge of honor with these madness. The songs fast, powerful , raw, hateful and full of all the elements that made this style 20 + yrs ago so forbidden and wrong but oh so right for us in the underground to hunt out via tape trading and hand made fanzines.... Agonia has hit the mark with this one Aces High!!!!
http://agoniarecords.com/
Temple of Baal- Lightslaying Rituals-CD (Agonia Records)
Ritualistic Black Death is what we have here. This is not for average or typical BM or Death metal fan. Temple of Baal is the kind of band you take you time and absorb every layer and theme of what the project is giving to you for an aural experience. Lightslaying Rituals is fast yet hypnotic, punishing yet melodic and haunting all at the same time. The release has a massive production full of echo and verb effects on the guitars and bass but the vocals and drums are kept more raw and primitive in that ideal ( there still effected for fullness needed). Temple of Baal to me are a band that are here to become masters of there craft. This is not a paint by numbers unit. They remind me a lot of 2 projects of days gone by Mythos (very underated Black Death band) and Early Altar in sound and style. Temple of Baal is a mandatory listen for fans on the more brutal occult Black Death sound. Enough Said...
http://agoniarecords.com/
Nocturnal Fear- Metal of Honor-CD (Moribund Cult)
Really what else can be set about this band. They are Thrash metal lets just face it. They fell in love with German thrash metal and have lived the sound since the day they were formed. Kreator, Sodom etc in the sounds that came from those bands have made them all that they are and you know what Nocturnal fear just kicks thrash metal ass. If you love your thrash fast, raw and over the top then get Metal of Honor if not then go enjoy your dave matthew's band album to go running for. Thrash for life !!!!!!!!!!!!!!!!!!!!
http://moribundcult.com/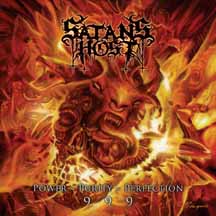 Satans Host- Power Purity Perfection 999-CD (Moribund Cult)
Satans host is a band that has been around for long time went dorment and then came back on the Moribund Cult flag to give the world another dose of Death metal inspired Extreme thrash with the last 2 release I heard from them there is a Black metal element mixed in as well but at the root of all of there madness its a mix of Testament, Slayer and The eastern flavors bands like Nile create. Satan's host is a hell of a band . Full on and in your face with a production to match. Satans host is just metal tride and true. There is nothing flashy about this project. They mix many elements into there very catchy and sometime haunting mix of Death, Black, Thrash and Prog elements. Come on any band the can be ultra brutal then goto an acoustic moment many us metal heads can learn from. The vocals remind me so much of Chuck Billy of Testament they make me smile. Satan's host is a fantastic metal unit that need more exposure...
http://moribundcult.com/