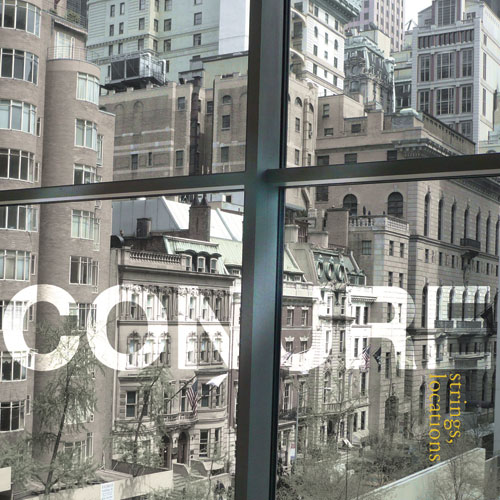 Conure- Strings, Locations-CD (Edgetone Records)
Experimental noise comes in all shapes and Sizes . With Conure we have Drones, Feedback Loops, Electro Noise and Waves of Pedal/ Effected power. Conure live is an event in itself an with his new album this is a warmer and harsher side then I've heard in a while. I miss this style of Harsher Drone Noise which labels like Groundfault, Truculent, RRRecords, Freak Animal use to infect us with. There is so much going then it mellows down to a static or rumble just to come back again to kick you in the teeth. Strings, Locations reminds me of bands like Sickness, Immaculate Grotesque and Goat to man a few.. Conure sound like its on the brink of total sonic failure and I could not be more proud to have this in my collection. Mark you have made me proud.. Get this release...
Conny Ochs- Raw Love Songs-CD (Exile on Mainstream)
So real singer/ songwriters are very rare to come by in 2011 but I'll tell you this mix folk, record, indie, punk and Americana all into a pot and you have Conny Ochs. As I hear Jeff Buckely, Neil Young with elements of Shudder to think, Low and even moments of Beatles and Mega City 4 in this album. Its a stripped down vocal , guitar, harmonica and simple percussion.. The blues side comes out as well in many of the track in a mellower Steve Winwood aka Traffic days.. I'm super impressed by much of what the Exile label releases. Its normally very indie heartfelt music with a very original edge. Conny is a delicate and talented an artist I don't what else to say other then if you like stripped down folk/bluesy rock then run don't walk for this..
USX- The Valley Path-CD (Neurot Recordings)
Neurot seems to have a style or sound around there recordings and this is a good thing not a bad one. This darker post rock/ post metal sound that add at hypnotic element to all they create. USX is something that in late 90/ early 00's would have been a event kind of release on Subpop, Matador, Touch and Go or even Constellation Records. It builds in its sonic resolve note by note , layer by layer. I can feel the emotion in every cord and beat that is given to us. Let us not forget this is a one song 38 minute event as well. Its very very heard to stay so cohesive on one track for 30 minutes not even to say keep it interesting and inventive which USX does with flying colors. Love the strings, twingy vocals and the the ebb and flow of the guitars and bass. It reminds me very much of Subarchanoid Space or a very cool band that is little know called Rein Sanction.. Check them out did two albums on Subpop... Its the kind of music that would make Greg Dulli an Mark Lannegan very proud that they continue to make music.. USX is as majestic and rootsy in all the project to the listen. This is a major album not to take lightly and years to come this will an album people still talk about... Hats off ...
http://neurotrecordings.com/
The Winchester Club- Negative Liberty-CD (Exile on Mainstream)
As I know nothing of this project I can just go on what I hear. So far avant/indie rock with a very heavy synth or electro element going on. As it builds and slowly it does so reminds me a lot of Mogwai or Circle in what they are striving to build. The guitars are getting louder but never to the point I would call it Hard rock or metal.. The Winchester Club had 2 guitars and bassists I'm reading so lets see where that takes us. Yes I would call this Post Rock or Avant Prog Rock it seems to fall under the two very interchangingly .. The guitars and bass play a major emotional role in why the songs are all presented. This band is all about the atmosphere in what they create that is blindly clear and it helps to like instrumental music . As they seems to be moving into Rachel or Slint elements of music even The Shipping News. Another fragile and mood changing release from Exile on Mainstream.. Two big thumbs up..
Mark Deutrom- The Value of Decay-CD (Southern Lord)
Clearly one of the most twisted and kick ass albums I just stumbled on to thanks to the good people at Earsplit PR. I don't know the band Clown Alley at all but know him from being in Melvins and this album really has it all Neoclassic, ambient, avant, Heavy Noise rock and Hardcore and then trippy off kilter Doomy moments. I the last 3 tracks I've heard elements of The Fluid, Dead Kennedys, Melvins, Sabbath, Lustmord and Puissance. I almost want to say that mark is very akin to what Sebadoh used to do in they way the albums were all over the place musically but just simply kicked ass. I not going to go to over board on this review. Just get it listen and start worshipping at the altar of this mad genius..
Graviton- Massless-CD (Translation Loss)
Ahh more droning and hypnotic post metal from yet another label that seems to impress with quality never quantity something I very much respect. I will say someone has a huge love of Russian Circles and Jesu and I can not be more pleased by these elements either. Massive open ended riffs with a jazzy /prog element and those verbed out dual or multi layered vocals. The do have an Low element to them as well as well as Devin Townsend .. I so very taken by Graviton as they are not trying to be Godspeed your black emperor, Isis or Neurosis . They are making Massless all there own and for that one thing you deserve to be brought to head of the class and its the songs and elements of creativity that keeps you there... The vocals has a very surf rock or 60's rock vibe to them too maybe I'm nuts. I hear th beach boy and jan and dean harmonies there.. Oh well you get the point more goodies for your listening pleasure.